Frasier Builders - Gloversville, NY
Whether you're a home owner, an investor, or a business, we have the knowledge, resources, and expertise to handle your construction needs. Please contact us for a free estimate on your next construction project.
Take a look at the construction services we offer and please contact us if you have any questions.
Company Profile
We are an incorporated company that is fully insured with liability and worker's comp insurances. The company consists of two partners, Rick Frasier and Richard "Moose" Putnam, and a construction crew. Frasier Builders was formed in 2004 and incorporated in 2007. We have experience in all facets of construction. Everything we've listed under construction services are things that we have experience in and do professionally.
Experience
The two parnters of Frasier Builders have 18 years of combined experience in construction. That doesn't include all the experience our crew brings to the table. We've built residential and commercial properties; we've built garages, home additions, decks, porches; we've installed doors, windows, siding, roofing; and we've installed kitchen and bathroom renovations. Please take a look at our construction projects that we've completed for our customers.
Reputation
Many people think that you have to pay a premium in order to hire a contractor with a good reputation. While it's true in many cases you get what you pay for, we don't believe you should have to over pay for quality workmanship. We pride ourselves in being a company that cares about giving customers great service at a fair price. We are determined to provide our customers, no matter how big or small the job, with high quality construction workmanship. We bid jobs honestly and fairly. Most of our jobs come from word of mouth, so we understand how important reputation is to our continued success.
Referrals, Insurance and Testimonials
Upon request we will provide you with referrals. We will also, upon request, provide you with all the appropriate insurance paperwork, something that our insurance agent would put together. As we've mentioned, we have lots of experience with lots of different types of construction, so we'd be happy to provide you with referrals. Take a look at our construction testimonials.
Our Gloversville Location
We are located next to Sacandaga Lake, making it convenient to service the foothills of the Adirondacks, parts of the Adirondack Park area, and the Capital Region.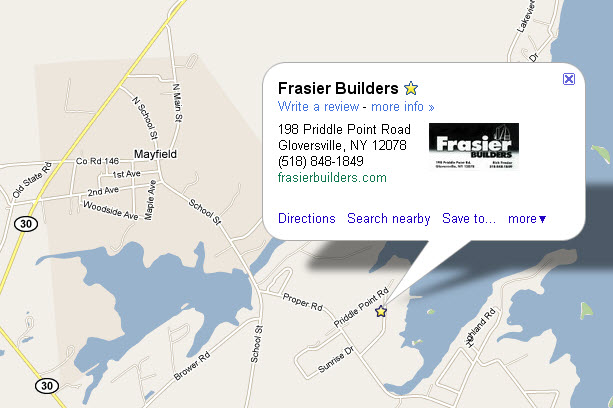 Hours of operation are Monday to Saturday 7am to 5pm
View our business profile in Google Maps and feel free to leave customer reviews.
You can also leave reviews here on Yelp and also on Citysearch.